Family Program Overview
The Family Program combines Sunday Morning lessons, weekend activities, and service opprotunities to teach and reinforce dharma and to put dharma into action with service.
Sunday Morning
Our Sunday Program is a vibrant mix of drop-off and family programming. Much of our curriculum content is based on the 16 Guidelines.~ 16Guidelines.org
Click here for more information.
Camping and Family Dharma Camp
Family Program Event: Costume Party in the Woods & Camping
When: October 26 - Oct 28, 2018
Camping weekend: Friday, 4pm - Sunday, 2 pm
Saturday events: 8am - 8pm
Where: BW Wells at Falls Lake @ 1630 Bent Rd, Wake Forest, NC 27587. Campsite # BW-07
Who: Family program is hosting this event for families to have a safe and fun halloween weekend
Registration required. More info here
Service
Kadampa Center's Adopt-a-Stream at Lake Johnson/Walnut Creek Trail
What a great day with our Kadampa Center team! Everyone did an amazing job and over 8 trash bags of debris were collected. The kids had a great time as you can see from some photos of the day.
Thank you to our wonderful organizers: Dorothy Robson and Elise Strevel and our fantastic volunteers: John Golchin and son, Echo Townsend and daughter, Barry Judge and Link Freedom!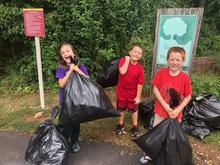 Past Service Projects
Jordan Lake Cleanup and Beach Day - July 22, 2018
We had great success with our event to clean the Jordan lake shoreline. Everyone worked hard and many bags of trash were gathered. The kids loved cleaning up as you can see from some photos of the day.
Thanks to all our happy volunteers who came out to make a difference!
On the beach!
Many bags of trash!
Eating lunch and getting ready to swim!