Contact Us
You will find links to a variety of individuals to contact for specific reasons throughout the site. In case you do not find what you need as you are moving about the site, here are some general contact tips:
For general inquiries about Kadampa Center and its activities, please email info@kadampa-center.org.
If you have other more specific questions about a program or event, please contact the appropriate individual in our Center Management.
Our phone number is: 919-859-3433
Want to keep up with all the happenings at the Center? Join our Yahoo! Group!
This group is an "announce-only" group, and you'll be getting notifications only of official business related to Kadampa Center. It is the best way to learn about schedule changes, upcoming events, and other information.
Location and Directions
Kadampa Center is located at:
5412 Etta Burke Court
Raleigh, NC 27606
Currently there is road work underway immediately south of Etta Burke Court. To reach Kadampa Center, you will need to come via Hillsborough Street.
If you are coming from the Raleigh beltline or Blue Ridge Road, drive west on Hillsborough Street past the fairgrounds. When you reach the fork in the road, take the left fork that brings you under the railroad bridge. Immediately after the bridge we are the first building on the left. Slow down, keep to the right of the orange barrels and look for the break after six or seven barrels, where you will have room to turn left directly into Etta Burke Court.
If you are coming from Chapel Hill or Durham on I-40, take exit 290 and turn east on Chapel Hill road (NC Highway 54).  Go about 1-1/2 miles to Hillsborough, and turn right. There's a traffic light, but the right turn lane veers off  sharply. There's a big green water tower to the right. Shortly after the turn, you'll go under the railroad bridge and then see Kadampa Center on the left. Slow down at the orange barrels, look for the break after six or so barrels, and turn left.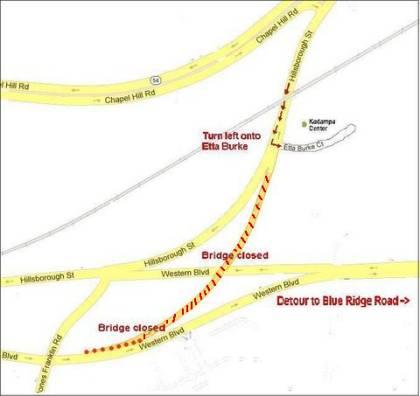 For Out-of-Town Visitors
For visitors from out of town, there are many hotels within a mile or two of Kadampa Center.  Unfortunately, there aren't many sidewalks in the area so walking to the Center from a hotel is not a good option. Kadampa Center does not endorse any particular hotel, but we're happy to provide this list of nearby inns for your convenience.
Comfort Suites Arena

1200 Hurricane Alley Way

Raleigh, NC  27607

Motel 6 Raleigh SW - Cary #4498

1401 Buck Jones Road

I-40 at US 1, Exit #293-A

Raleigh, NC, 27606

Phone: (919) 467-6171

FAX: (919) 469-8259

Ramada Inn

1520 Blue Ridge Road

Raleigh

Red Roof Inn

1800 Walnut Street

Cary, NC  27518

Hyatt Place

710 Corporate Center Drive

Raleigh, NC  27607

Wingate by Wyndham

115 Corporate Ridge Road

Raleigh, NC  27607

Hampton Inn & Suites

111 Hampton Woods Lane

Cary 

Candlewood Suites

1020 Buck Jones Road

Raleigh, NC  27606

Best Western Cary Plus

1722 Walnut Street

Cary, NC  27511