Jonathan Kramer Plays Cello
To download a recording, Ctrl-click or right-click on the "Listen to this recording" link and then "Save Link As..." to save the MP3 to your computer.
At Venerable Robina's request, Jonathan Kramer plays Bach Cello Music.
Dr. Jonathan C. Kramer is Teaching Professor in the Music Department at North Carolina State University, and Adjunct Professor of Ethnomusicology at Duke University. As a cellist, he has performed as principal of the Tucson Symphony and as a member of the San Francisco Opera and Ballet Orchestras and the North Carolina Symphony. Among his teachers are Aldo Parisot, Gordon Epperson, Raya Garbousova, David Wells, Madeline Foley, and Maurice Gendron.
!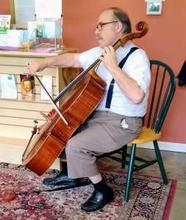 Course Type:
SPIRITUAL: Visiting Teacher