How to Meditate: A Practical Guide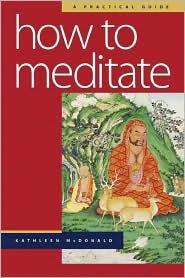 This book is the main text for the Meditation 101 class.
In a world seemingly moving at hyperspeed, it can be daunting to simply slow down — or stop — even briefly to try to make sense of things. Meditation has been proven to help. But exactly what is it? Why practice it? Which techniques are best? This popular guide answers these and many more questions for anyone who wants to begin — or is struggling to maintain — a meditation practice. Written by a Western Buddhist nun with solid experience in both the practice and teaching of meditation, How to Meditate contains a wealth of practical advice on a variety of authentic techniques, from what to do with the mind, to how to sit, to visualizations and other traditional practices. Best of all, McDonald's warm, encouraging approach is as close to the intimacy of private instruction as a book can be.