WeCare Kit Assembly Party
Primary tabs
1:30 pm Friday, June 24, 2022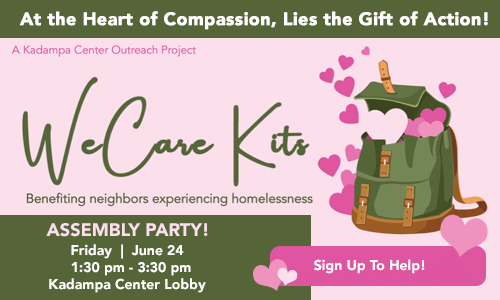 At the Heart of Compassion, Lies the Gift of Action!
Dear Kadampa Center Community, You listened to your heart and took action – thank you! Due to the generous response to the appeal for personal care items and gently-used backpacks, we are ready to assemble the donated items, to create 25 WeCare Kits.
You're invited to join us for Outreach's WeCare Kit Assembly Party, to be held FRIDAY, June 24th from 1:30 to 3:30 p.m. in the Kadampa Center Lobby. Join the fun as we assemble and "kit" the donated items, and complete the kits.
WeCare Kits will be distributed by Oak City Cares, a public-private partnership in Raleigh that exists to support the self-determination of our neighbors experiencing homelessness.
Join us to do good, feel good, and benefit others!
Location at Kadampa Center:
Conference Table in Lobby